Traditional Chinese
Buds (0-3 years)
Introducing our Traditional Chinese subscription box for babies or young toddler ages 0-3 years old. You can find delightful narratives, bright and bold illustrations, and shorter text. Books are published in traditional Chinese (繁體中文)handpicked and curated from over 20+ publishers in Taiwan.
Each box includes:
A unique selection of 3-4 picture or board books (Some books may have Bopomofo printed, depending on the publisher)

Curio developed reading guides, pinyin guides and audio read-alongs in Mandarin
* The images provided may not always accurately reflect the contents of the box. Each box you receive as part of the subscription will contain different books.
What you will receive in each box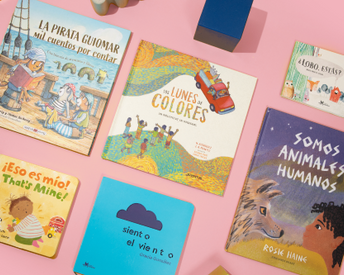 Expertly curated award-winning titles from countries where the language is spoken as the mother tongue.
Reading guides, audio read-alongs and more digital print-outs available on our site.
Each box is focused on a social emotional development theme reinforcing core social emotional competencies.