Spanish
Bud Box (0-3+ years)
Introducing our Spanish Subscription Box, a delightful collection of books for babies and kids ages 0-3+ years old. Our handpicked selection features short, compelling authentic Spanish stories with simple vocabulary. Repeated phrases encourage early readers to join in, while many sight words aid recognition. With captivating plots and lovable characters, these engaging stories are perfect for fostering language development. Start your child's Spanish journey with us today!

Bilingual baby? ¡Qué bien!
Each box includes:
A unique selection of 3 picture or board books

Reading guides + audio read-alongs in Spanish
* The images provided may not always accurately reflect the contents of the box. Each box you receive as part of the subscription will contain different books.
What you will receive in each box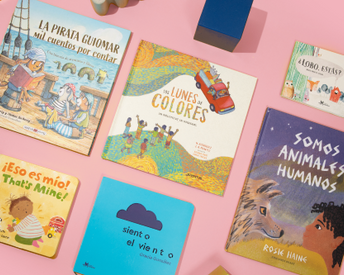 Expertly curated award-winning titles from countries where the language is spoken as the mother tongue.
Reading guides, audio read-alongs and more digital print-outs available on our site.
Each box is focused on a social emotional development theme reinforcing core social emotional competencies.