Simplified Chinese
Buds (0-3 years)
Introducing our Simplified Chinese Subscription Book Box, specially curated for children aged 0-3 years old!
These books are shorter text and bright and contrasting illustrations, with emphasis on repetition or enumeration. They're written with rhythmic phrases that build recognition of syllables, words, and sounds.

适合0-3岁的中文儿童书订阅盒。精选了来自中国40家出版社的幼儿图画书,以短文本和明亮对比的插图为特点,帮助孩子识别音节、单词和声音。让您的孩子在阅读中享受乐趣培养对中文的兴趣和理解。
Each box includes:
A unique selection of 3-4 picture or board books

Reading guides + audio read-alongs in Mandarin
* The images provided may not always accurately reflect the contents of the box. Each box you receive as part of the subscription will contain different books.
What you will receive in each box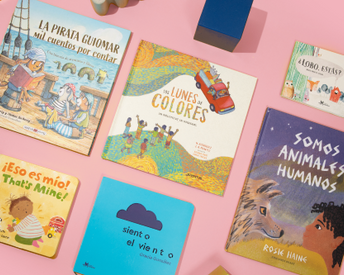 Expertly curated award-winning titles from countries where the language is spoken as the mother tongue.
Reading guides, audio read-alongs and more digital print-outs available on our site.
Each box is focused on a social emotional development theme reinforcing core social emotional competencies.