French Sprout Box 4
Our Sprout Box in French for children 4 and above is sure to nurture your little readers' growing love of french books. While storylines gain in length and complexity, they offer essential life lessons in a very relatable way to Elementary school children. 
We collaborate with French independent publishing houses that have received much acclaim for their books throughout France, Belgium and Switzerland.
In true French fashion, these books are elegant with a certain "je ne sais quoi"  that is sure to get the whole family hooked!
Each box includes:
A unique selection of 3 picture books

Reading guides and glossary of new words and pronunciation in French

Longer sentences, more sophisticated words, age and developmentally appropriate topics, eye-catching and poetic illustrations
* The images provided may not always accurately reflect the contents of the box. Each box you receive as part of the subscription will contain different books.
What you will receive in each box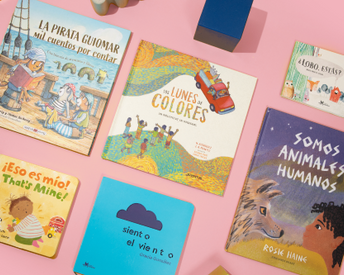 Expertly curated award-winning titles from countries where the language is spoken as the mother tongue.
Reading guides, audio read-alongs and more digital print-outs available on our site.
Each box is focused on a social emotional development theme reinforcing core social emotional competencies.