French Bud Box (0-3 years) - Box 2
Still wondering where to find French storybooks for children? Look no further, Curio's French subscription box offers a variety of award-winning books filled with beautiful illustrations that are bound to become family favorites. By working with independent publishing houses in Paris and the heart of Europe, we curate some of the latest novelties in children literature from France, Switzerland and Belgium. 
For the 0-3 years old babies and toddlers, our handpicked selection focuses on board books with repetition, lots of visual components allowing for versatile reading and thematics that resonate with their world. Simple vocabulary and eye-catching illustrations allow for lots to discuss with your little ones.
Each box includes:
A unique selection of 3 picture or board books
Reading guides and glossary of new words and pronunciation in French
* The images provided may not always accurately reflect the contents of the box. Each box you receive as part of the subscription will contain different books.
What you will receive in each box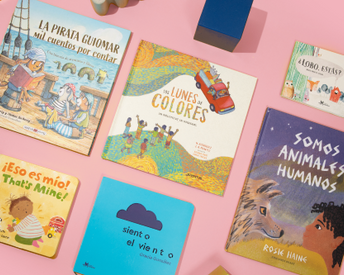 Expertly curated award-winning titles from countries where the language is spoken as the mother tongue.
Reading guides, audio read-alongs and more digital print-outs available on our site.
Each box is focused on a social emotional development theme reinforcing core social emotional competencies.